The Castle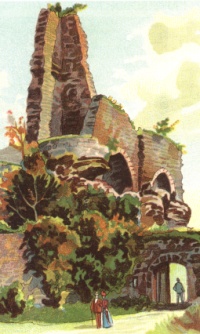 The Guirbaden Castle is the largest castle in Alsace in terms of area (2 hectares with its outer walls). Unfortunately it is not the most well preserved, as reinforcement work has not been undertaken. The keep remains visible from all around, reminding us of how the castle must have dominated the surrounding area.
The first castle was first mentioned in 1137, at the same time as the creation of the Kloesterlé Chapel, with which it has close links. It was stormed by Frederic II (Barbarossa) in 1162 and destroyed. It was rebuilt between 1218 and 1226 under Frederic of Hohenstaufen II and even enlarged and strengthened with the construction of the "castrum novum" to the west of the original building. Unfortunately, the castle could not stand up to the attacks of the terrifying Swedish army (1632/33) during the Thirty Years War, when Catholics and Protestants battled for religious and politic domination. The castle burnt down on 14 September 1633 and again in 1652 when Lorrain troops attacked Alsace. The fortifications were deliberately demolished with explosives by French troops in 1657, presumably to prevent it being used during a rebellion.
As a matter of fact the numerous fortified towns in Alsace bear witness to this tragic split. The tourist will be pleased to see that most of the town in the area have mediaeval portals and remains of protective walls. The nearest ones to Mollkirch are Mutzig, Boersch, Rosheim and Molsheim.
The ruins of the Guirbaden have not been protected as they should have been. Even a part of the 13th century palace was dismantled and incorporated into the ruins of the Ottrott Castles. The castle went into private ownership, and the discord between the owner and local authorities has prevented the necessary consolidation work from being carried out. Even sculpted stones have been stolen by individuals who prefer to make a profit out of our historical heritage rather than leaving it where it belongs.
Nowadays the castle has still something magic about it, only being accessible on foot. A discovery trail has recently been opened up to enable walkers to climb up to the Guirbaden from a purpose-built car park to be found on the right-hand side as you come out of Laubenheim on the Grendelbruch road. Various paths lead to the Guirbaden. For those wanting to avoid the climb there is a path from Grendelbruch, for keen walkers there is another climbing directly from the Heiligenberg-Mollkirch train station. There is also a path from the centre of the village starting in rue du Rocher, first right after the Town Hall.