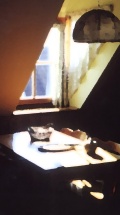 The holiday flat is an apartment of about 60m2 under the eaves of the owner's house, which dates back to 1780. The apartment was created when the house was entirely restored between 1989-91. It is very bright, decorated mainly in yellow with an accent placed on pine fittings and furniture. All the furniture was bought new for the apartment. There are two bedrooms, one with a double bed and the other with two singles. A cot is available on request.
The apartment is suitable for a couple with two children at the most.
It is equipped with kitchenette next to an open eating area and living room space with sofa and chairs. There is also a selection of books informing holiday makers about the history and culture of Alsace.
The bathroom is equipped with shower and there is an unlimited supply of hot water. The toilet is separate.
There is also a terrace specifically for use by the holiday makers and which gives separate access to the garden with its swings and bench.
A laundry with washing machine, iron and drying facilities should be ready by the 2001 summer season.
Dogs accepted.
English and German spoken.
The address is:
M. Martin Smith
10 route de la Chapelle
Laubenheim
67190 Mollkirch
France
[ Tel. (0)388 49 01 10 ]